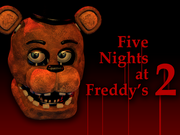 Five Nights At Freddys 2 is a sequel to the point and click survival horror game developed and designed by Hope Animation member Scott Cawthon.
like the Five Nights At Freddys 1 , it is an point and click survival horror game in which the player must again survive five nights at the new and improved "Freddy Fazbears Pizza" while avoiding the Animatronics.
there are 6 new animatronics , as well as toy versions of the five animatronics from the first game. totaling the amount of animatronics to 11. there are much differences to the game's game mechanics from the first game such as the removal of the doors and the addition of the Freddy Head , Music Box and the Flashlight
FNAF 2 was released on Steam and Desura on November 11 2014 after a delay in the demo being released it was released on Android on november 15 2014 then the iOS version was released on November 20 2014.
Community content is available under
CC-BY-SA
unless otherwise noted.